A SaaS Landing Page with ALL the bells and whistles for $19 / year
- 6 minutes read
- 1091 words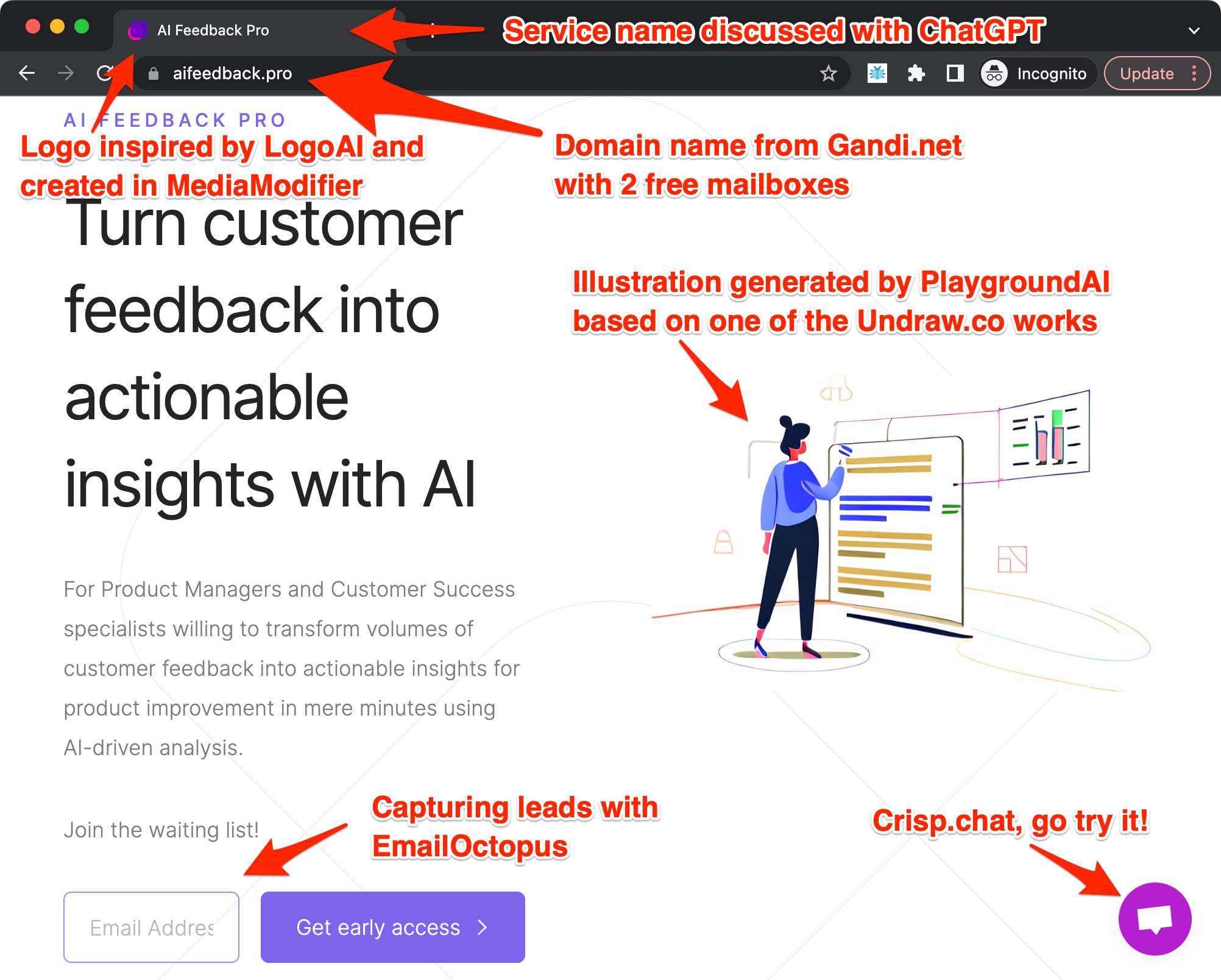 Starting a SaaS or micro-SaaS business can be challenging, especially when it comes to creating a landing page. As I recently discovered when building AI Feedback Pro, creating a landing page to validate customer interest can be a costly venture. However, I found a solution that cost just $19/year plus the cost of the domain, without sacrificing the essential features.
In this post, I'd like to share my experience and provide you with a list of components and services that will help you build an effective landing page on a budget. Whether you're just starting out or looking for cost-saving measures, this guide is for you.
Just the list
Where the price isn't mentioned - it is free on the landing page scale
Now to the details.
Landing Page Service
The landing page service I chose Carrd's Pro Standard plan, which is priced at $19/year and includes a custom domain, that was important for me from the start. Carrd offers several landing page-friendly themes for free, and I went with template #95, which I found most visually appealing.
Runners-up: EarlyBird.im, which costs $8/month. While it doesn't have as many features as Carrd, it is designed specifically for SaaS landing pages and provides good value. For those with coding skills, building a static website using tools like Gatsby or 11ty and hosting it on Netlify's free tier is another option. However, this requires technical expertise and will to spend coding time on the landing page.
Theme
For my landing page, I went with Carrd's template #95. If you're on a Carrd's Pro plan, you have access to a number of free themes that are compatible with landing pages.
Runners-ups: The two runner-up themes I considered were Carrd's template #106 and SaaSy template, which is cool but costs $29.
Mailing list
To capture email leads, I used EmailOctopus, which was literally the only email service I found with a free tier generous enough for landing pages. With 2500 subscribers for free, it has a full suite of features, and its costs don't skyrocket if you happen to go over the free limit. EmailOctopus also has an easy integration with Carrd.
Cookieless Analytics
I utilized not one, but four different cookieless analytics tools which can all be configured to work without cookies and without tracking the users (no GDPR hassles): GoatCounter, Counter.dev, Clicky, and PanelBear. None of them is perfect, but they should all cover the necessary basics.
GoatCounter is free on the landing page scale, has primitive support for campaigns, and is "contribute if you find it useful" priced.
Counter.dev is not very powerful, but is totally free on the landing page scale.
Clicky is free for up to 3000 daily views a month and is a bit limited but has a powerful next plan at $9.99/mo.
PanelBear is incredibly decent with proper campaign tracking, but its next tier is $29/month, so for exactly right now it is the main service I am looking it, but I only plan using it on free tier only.
Surveys
For sending surveys to subscribers or placing them on your landing page, I went for Tally.so, which offers powerful features and is limitless(!) on a free plan. You'll only need to pay if you want a custom domain, CSS, or some collaboration features.
Illustrations:
For illustrations, I used Undraw, which offers a huge collection of easily searchable images. If you can't find exactly what you're looking for, AI tools like PlaygroundAI can create an image in your desired style with just one reference image. Other alternatives include searching for "undraw alternatives" on Google.
Logo
Logo is a difficult case. I tried many AI-powered services and if you want something okay generated fully for free - the only option I found was a NameCheap logo maker.
Runners-up: I really liked the logos produced by LogoAI. Seriously, their logos looked decent. However, their cheapest option costs $29 and if you need vector files (sure you do) get ready for $59. If you know how SVG works and are after something simple and geometric (circles, rectangles and so on) you could possibly use LogiAI for inspiration and create your own logo in a free SVG editor such as MediaModifier.
More runners-up: An okay paid versions are available at BrandCrowd Logo Maker for $8 and TailorBrands for €8. Then if you'll need a larger image with a logo and brand together, free tier of Canva should be good enough for it.
Email Service
If you don't feel like using your main email account for the coming service, consider purchasing a domain from Gandi. For every domain purchased, they offer two free mailboxes of 2GB each, webmail, and the option to connect an email client.
Support Chat
If you want to put a chat button to your landing page, go for Crisp Chat, which provides a variety of features and functionality.
Bonus: Service name
Have a chat with ChatGPT telling it about your service and discussing a good service name and possible domain names for it
What do you think? Which service is missing?
Have I missed any other services that I should consider?
I would be particularly interested in finding a free or low-cost service for brand logos and website illustrations, as I am not entirely satisfied with the current options. It would be great if there was a service where I could affordably get illustrations in the style I desire for something like "an excel list with text on the left, followed by a right arrow, and a bar chart on the right." Do you know of any such service?